And so it settles down. We did the holiday food and we did the New Year's food. And it was good, wasn't it? Well I don't know about you, but for all that goodness, I'm actually quite excited to get back into my normal food. I love my food!
Last Friday was just another boring day. Another boring day of delicious, healthy, high-raw homemade vegan food. It looked like this: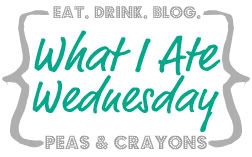 Morning
I had my usual bowl of coffee (up top) and Waits and I split a breakfast plate (below). Waits eats his breakfast on a step ladder sitting in front of our bedroom mirror. The plate sits on the top step, he stands on one of the lower steps, and he watches himself eat. Weird, I know, but it works! He's a picky eater, and that's good enough for me!
We split a bowl of oatmeal with cinnamon and almond milk, a spoonful of peanut butter, and a clementine. Waits had more
fortified almond milk
on the side.
Waits stole my coffee cup. Because Lion was thirsty, obviously.
Then it was walk time. We took the poochies on a long meandering walk while I caught up with an old friend on the phone. After we walk, we blend.

Local Farmer's Market bok choy! It went into the blender along with some homemade kombucha, spirulina, raw rice protein, frozen banana, and some maca I think. That was damn good. Waits agreed:

Beautiful, bright, and brimming with nourishment!

While we drank our smoothies I prepped my lunch, which was raw sprouted buckwheat soaked in [non-raw, store-bought] almond yogurt.

Afternoon

After smoothies we bathe, and after bath we nap. Well, Waits naps. I work. And eat buckwheat yogurt mix, topped with peanut butter and apricot jam.

Damian came home from work early. He fed Waits peanut butter straight from the jar, while I made us a tall glass of green juice.

See? Cucumber-kale-parsley-celery, with 1/2 an apple for sweetness.
I had some more coffee somewhere in here too. Unpictured.

Night

Homemade chili.

Spinach salad.

Cornbread in the cast iron.
And together:


And for the wee man:

A little bit of everything, but he likes the olives the best. Smart boy.

Dessert

Raw chai cheesecake left over from Christmas night (don't worry guys, it was in the freezer!) Epic.
And that was it, just another day back in the swing of life. And you know? Life is precious and dynamic and beautiful all on its own, every day. We don't really need holidays to tell us that.
~~~

Most days I actually wear more than one outfit, did I ever tell you that? Yeah, I change my clothes at least once, if not twice, as my needs change throughout the day. Here's what I wore on Saturday.
Vintage for my morning appointments and errands:


And a bright hoodie with black skinnies for afternoon relaxing:



So, how are you liking life post-holidays? New start inspiration or back-in-the-grind slump?