In reviewing my WIAW posts, it became abundantly clear that I have a bias towards featuring weekdays. And more often than not, one weekday in particular: Monday. So I thought, perhaps this time I would spare you yet another green smoothie/tahini dip type of a day (okay, I admit it, I'm in a rut. But it's such a tasty rut!) This week, I lugged the camera along for our Saturday adventures, as me and my boys went about our Rebhal-y business. It looked something like this: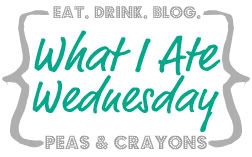 Coffee
I enjoyed a strong cup of french roast with [store bought, fortified] almond milk and a dash of stevia, while perusing the Internets.
Waits had some semi-naked time [pre-potty training] and played with the old [defunct] coffee maker (best. toy. ever.) and peered out from between the bars, dreaming of freedom . . . (his old
knee pads
make great little leg warmers!)
Then it was time to go to the Farmer's Market!

Breakfast

I had (as always) a raw vegan hand pie. I'm partial to the passionfruit cheesecake, but this week I just couldn't resist the special – a combination of chocolate and chipotle chili. It was OHSOGOODAMAZING (as always).
I also grabbed some more coffee:



A Late and Hasty Lunch

Waits woke up halfway through his nap and I had to nurse him back to sleep in my arms, which left me trapped underneath him. His nap ended up being extra long (mommy is comfy!), so by the time he woke up I was STARVING. I just grabbed the quickest/easiest thing, which was leftover "protein mashed potatoes" (tofu mashed in). We all three had a bowl and I'll be damned if it wasn't absolutely delicious!

Afternoon Treat

We went out to run some errands and made a quick stop by the co-op. I grabbed a [hippie-tastic] xgfx agave-sweetened quinoa peanut butter chocolate chip cookie, and a can of coconut water (Amy and Brian's is the best!). It was such a lovely afternoon . . .



Dinner

I made us an awesome feast of fajitas! Refried beans (with salsa and nooch) topped with grilled veggies (onions and red/orange/yellow bell peppers) and mexican-spiced soy curls. So good!

The boys each enjoyed their fajitas in a traditional style – ie, in tortillas. But I wanted to get some raw veggies and some greens in, so I used large lettuce leaves as a wrapper. It worked great and I think the lettuce really allows the flavors in the filling to shine.

Dessert

A scoop of coffee hemp ice cream and a scoop of vanilla coconut ice cream with peanut butter. Awwww yeah.

~~~

A couple years ago I got on this big kick of wearing clashing patterns. I always had a minimum of two, but often worked in three, even four different motifs (ie plaid, stripes, polka dots, and argyle). I fell in love with the quirk of it and I guess it sort of stuck, because this is a pretty typical autumn outfit for me.
I know I live in my own little fashion world. I'm pretty okay with that.


Plaid work shirt: thrifted
Tan shorts: secondhand, originally American Eagle Outfitter
Black leggings: from Target, long long ago
Green stripey long long long socks: from Sock Dreams (on sale even!)
Brown engineer boots: secondhand, pre-gan