I know I'm especially susceptible, but geez those peepers just slay me!
Another Wednesday and another peek into our little vegan family vittles. PLUS, beginning this week I'm adding a new feature to the Wednesday repertoire! But you'll have to read through to the end to find out what it is . . .

Before I jump into the food, however, I wanted to address a question that was asked on another WIAW post. Jill wrote:

"As always, it all looks lovely…what I can never figure out, though, is why I need to eat a ton more of food than the blogs of people who eat similar diets to me? Okay, so part of it is just that I like the pleasure of eating, so maybe that's the reason sometimes, but I'm actually quite thin, and the only exercise I get these days is walking and chasing around my 2 little kids…but I get hungry!"
She included a little information about her own diet and circumstances, and then concluded with,
"While I LOVE to eat, my grocery budget would like it if I could be satiated with a salad until the next meal time arrives. Did you used to require a ton more food?"
Firstly, to Jill – thank you so much for asking this question! I bet a lot of other people have wondered the same thing, and I'm glad you gave me the nudge I needed to adress it in public.
The truth is, I held off for a long time on posting any sort of meal plan, because I was afraid of this very problem. I know that people draw comparisons, and I know that food blogs can be unsettling and triggering, especially for people who have struggled with disordered eating – but even for those who haven't. My aim here on Bonzai is always to 1) empower, and 2) educate, and 3) inspire, and in the end I decided that posting the details about what my family eats could really help to further those goals. I sure hope that it does.
But I sympathize with Jill. In the past, I've found myself doing the same thing with other blogs! But here's what I try to keep in mind:
First, oh my god you guys, photos are SO DECEIVING. I know because I notice it when I'm editing them – I'll think, "damn that salad looks puny!" And then I'll remember that it contained an entire head of lettuce (almost all of my single-serving salads do) and a ton of other vegetables, and filled my awesome enormous "dinner party" salad bowl that I got as a wedding gift. Yes, I eat the dinner-party-sized salad . . . all by myself.
Which leads me to my second point, which is oh my god you guys, I eat SO MUCH FOOD. Seriously, I had to laugh when I got this comment because, wow, I'm such a little hoover! I love food and I love to eat and I eat a lot. Remember that bloggers are always thinking about photo quality – we make up pretty plates for pretty pictures. We don't show you when we go back for seconds . . . or thirds! But I assure you, I am a naturally slender lady who is breastfeeding and who spends every waking moment chasing a VERY active toddler, which means I need to eat a lot – and I do!
Lastly, please try to remember that food blogs are reflective of their individual authors, and every single person is just that – an individual. Let them empower you to stay on track with your health intentions, or educate you about ingredients, or inspire you culinarily. Or, as is sometimes the sad case, allow them to remind you of what you don't want – ie, an unhealthy, overly-restrictive relationship with food. But bottom line, try not to compare calorie to calorie, portion to portion. I promise that the photos aren't painting an accurate picture (because they just can't), and even if they were it wouldn't matter. Everybody is different, and every body is different.
Okay, I hope that helps. Now on to the food!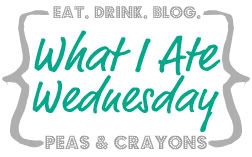 Tea
Damian had a flat on his bike, so
after my shred
, I gave him (and his bike) a ride to work. Well, he drove there and I sat in the back with the little rabbit. It was a pretty tight fit with the wheel directly over my head.
I had black tea; unsweetened fortified coconut milk; stevia. Waits had a banana (not pictured).


Brekkies
When we got back I plopped Waits down in his high chair and set about making us our green monster. While I worked he snacked on a cup of unsweetened fortified coconut milk and 1/2 a rice cake spread with homemade sunflower butter.
Our smoothie was a good one, with the leftover half of Waits' car ride banana, plus another frozen nanna, with homemade kombucha, raw hemp protein powder, spirulina, homemade green powder, mesquite powder, a dash of stevia, and a few ice cubes.
We also had a spoonful of molasses apiece.

Snack Plate
After brekkies comes bath (with a cast = watersport adventures!) and after bath comes nap. During nap I re-caffeinate . . .
This tea, Duchess Grey by TJ's, is pretty good but I prefer it as a kombucha base as opposed to a sipping tea. I like my black tea with cream, and the citrus notes kind of clash with that. My 0.02.
When the wee one awakened I fixed us up a veggie platter, with organic carrots plus FarMar cukes and peppers. The dipping sauce is a raw tahini something-or-other, I make it up as I go along!


Bike Snacks
In the afternoon Waits had a date. Ooh-la-la! On the way to the park he nibbled on his leftover 1/2 rice cake from breakfast.
Much merriment was had . . .
And then on the ride home we split a small bag of falafel chips I'd gotten at VegFest. These are really good! Gluten-free and high protein, too.


Juice! (+)
When we got home I was seriously craving juice, probably because of all the processed food I'd eaten that weekend at VegFest. I juiced two romaine hearts and a bunch of broccoli stalks. But, Waits stole almost the entire glass!
Of course I was happy to share. How could I deny my baby the greatness of fresh green juice!? Also, we must always drink our green juice together sitting on the kitchen floor. Don't ask me, I don't make the rules.
I was still hungry so I snacked. Rice cake with homemade sunflower butter. I also grabbed a late afternoon cup of coffee when we took the pooches out for a stroll. With stevia and coconut milk, not pictured.


Dinner
Okay, this sure isn't the prettiest looking meal, but damn if it wasn't completely delicious. Damian was especially enamored – he said it tasted just like Thanksgiving stuffing. Thanksgiving in summer!
Sprouted quinoa and black beans cooked together with garlic, nutritional yeast, liquid smoke, and some green peas thrown in for good measure. Gravy. Fingerling potatoes mashed (skin on) with Earthbalance and coconut milk, salt and pepper. Gravy. FarMar broccoli and cauliflower roasted in olive oil and tons of fresh garlic. More gravy. We had a big bowl of gravy between us on the table, for realsies.
Waits basically just had his penguin-sized portions of the exact same thing.


Dessert
Once the bean was in bed and the dishes were done and all my late-night duties were attended to, I curled up with my very favorite – a frozen banana with nut butter (this time it was sunflower butter). NOM.
~~~

And now! As many of you know, Im a huge fan of fashion; I adore the artistry of it and I"m empowered by the politics of it. I think that fashion allows us to express our creativity, but also that it can send an important ethical message. Voting with your dollar means withholding your financial support from companies you disagree with (buying secondhand clothing) AND by choosing to spend your money with businesses you believe in (that's a procott!). Between all the fun food and DIY adventures and gardening madness and all the other great stuff we've got going on here on Bonzai, "The Fashion" tends to get overlooked. SO, from now I'll be including an outfit in every WIAW post. And all of my clothing complies with my original Fashion Manifesto – oh but of course!



This outfit is neither funky nor fancy. But it's so quintessentially late summer, and it's the real deal – it's what I'm wearing 9 days out of 10. It's a "mom uniform", no doubt. And I wear it with pride.
I wore :
Grey and white striped hoodie: passed on from a friend (Originally f21, I think)
"Save A Turkey, Eat Tofu" t-shirt: secondhand
The Perfect denim cutoffs: secondhand
Red seatbelt belt: I've had this thing for over a decade
A selection of ancient bracelets, because accessories (and mascara!) are what turns "clothing" into an outfit. At least that's what I tell myself . . .
not pictured: pink converse with black laces (old old old) and a grey hat (handmade, local artist)