I'm back on the bandwagon! And happy to be here; I've missed our WIAW parties! This time, as promised, I'm following up on the breakfast bonanza with an entire weeks worth of "lunches". I put that in quotes because really, Waits and I are grazers, and we tend to just snack all afternoon. So really, this is more of a "What We Ate Between Lunch And Dinner". Yes?
Yes!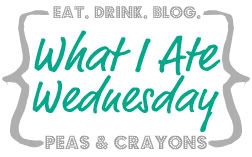 Sunday
On a Sunday afternoon a few weeks back, we were
visiting my in-laws
up near Seattle. As an easy (and wow, delicious) lunch, I used some
leftover enchiladas
to turn a simple green salad into a badass meal. Red leaf lettuce tossed with nooch, carrots, red onions, and red wine vinegar, topped with leftover enchiladas and spanish rice. Served alongside a beer. YES.
Waits was excited and wouldn't sit still, so I fixed him a fruit plate to nibble on. It had banana, cherries, and apricot, with a spoonful of almond butter.
We always stop for snackies at the Olympia Food Co Op on the long drive home. This time I was in the mood for fruit and fancy nut butters, plus a refreshing coconut water. Waits helped me eat all of this, but mostly stuck to his rye crackers:
Happy bubs munching his crackers the whole way home.

Monday

Back to the weekday routine. After breakfast Waits takes his nap, and on Mondays we rush off right after nap time, to make it to the pool during free swim. I wasn't hungry yet, but Waits had a few raspberries and this homemade raw "birdseed bar" (sprouted millet, flax, goji berries, pistachios, etc) in his bike seat on the ride over.


After we were home and showered, I was starving! I had a bowl of raw "green granola" with sprouted buckwheat crunchies, spirulina, stevia, mesquite, cinnamon, ginger, nutmeg, banana slices and dried figs, topped with walnut milk. Um, this was REALLY GOOD.


Waits had a snack tray (Any other parents do this? Such a great way to get kids to eat more quantity + more variety!) containing raw almond butter on a spoon, half a nanner, homemade kale chips, cherries, sesame rye crackers, and raw sunflower seeds.


In the late afternoon we took the dogs on a stroll down to the coffee shop so mama could get her fix. While we were there, Waits demanded another banana out of their fruit basket. This monkey boy is serious about his bananas.
I got a double shot of espresso, brought it home, and poured it over ice to make an iced walnut milk latte. Hello, lover.

Tuesday

When Waits woke up from his nap I wasn't super hungry, so I snacked on kale chips and sipped on kombucha.


Waits had a sippy cup with water (probiotics + xylitol added) and a plate of quinoa pasta tossed with tomato paste, olive oil, and spinach. Side of steamed carrots, side of fermented pickles.


On Tuesday afternoons we go to Tiny Tots for songs and play at the library. During the toy time Waits was off being a hurricane, and I enjoyed a raw birdseed bar (same as yesterday's, not pictured).


On the way home we stopped by the grocery store and Waits wanted a nanna (see a pattern?). Once we were home I may or may not have eaten a ridiculous amount of kale chips. WHY ARE THEY SO GOOD!?

Wednesday

On this particular Wednesday, Waits was having a really rough time with his teething. He took forever to get to sleep for his morning nap, and I didn't even eat my "breakfast" until noon. So, when after-nap eating time rolled around, I wasn't very hungry. We juiced!
5 broccoli stalks (leftovers!), 2 cucumbers, and a carrot.


Waits had a plate with the same leftover pasta from yesterday, and a side of cherries. He also helped me with the juice!
On Wednesday afternoons we visit the little year-round Farmer's Market at our co-op.


It was like this:
Inside the co-op Waits spotted a banana. Game over.
Outside the co-op we both sampled lots of seasonal berries, and then split a wheatgrass at the Sip cart. Yes, he totally shoots wheatgrass.
Then I found organic rainbow chard for $1/bunch and I couldn't pass it up, so even though we were ont he bike, I bought a ton and hung it off my handle bars for the ride home. Waits spent the entire journey munching on chard stems – you should have seen the looks we got!


After that ride I refueled with 1/2 a frozen banana, plus Waits' leftover 1/2 banana, plus 2 dates and a spoonful of almond butter. Damn, that was tasty.

Thursday

We started the afternoon off right with fresh green juice. All chard stems, ha!


My breakfast had been so delicious that I had it again for lunch. I know, it's not so pretty. But let me tell you – AMAZING. A raw green/protein/chocolate smoothie with kombucha, banana, hemp protein powder, swiss chard, stevia, and raw cacao, served in a bowl and topped with strawberries, bananas, and coconut butter. WOW.


Waits helped me drink my smoothie (he got his portion before I added the chocolate), and he also had a snack tray with with banana, soaked goji berries, sesame rye crackers, raw kale chips, peanut butter on a spoon, and steamed carrots.

Friday

On Friday we hit the road for our grand California vacation, woo-hoo! Our first stop was in Eugene, at SeQuential Biofuel, an ALL NATURAL GAS STATION. Haha, oh Oregon, you slay me! <3
We stocked up on gluten-free chips and hummus, nannas, sushi, coconut water, and a vegan donut for Damian.


Waits started getting cranky right as we were rolling through Ashland. Perfect! The Ashland co-op is my favorite co-op in the entire world (and lord knows, I'm a connoisseur)


Iced coffee for me, and a green juice for the monkey and I to "split" (he drank most of it). From there it was a straight shot to Shasta county.


And that's that. So what about you, my friends? Do you usually have one large lunch or are you a grazer like us?
Next week, my Northern California foodie adventures!