Spirulina + Strawberries = a match made in heaven.

Do you eat the same thing for breakfast every day, comfortable in your ritual, dialed in to something that really rocks your world? Or do you like to switch things up, keep it interesting, keep your tongue guessing?
Me, I'm a "weekday routine" person, so I do my morning smoothie and I don't tend to deviate. But for Waits, I like to offer a lot of variety. He's still exploring different tastes and textures and I like to keep him stimulated, culinarily. And for this WIAW, I thought it might be fun to replace an entire day's worth of food, with an entire week's worth of breakfasts. What do you think?
Here's what it looked like: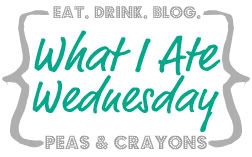 Monday
I had an extra dark green smoothie, with: home brew kombucha, Irish moss, raw hemp protein powder, Vitamineral Earth, vitamin K2, stevia, FarMar kale, and frozen blueberries. Noms.
Waits always helps me drink my smoothie. I prepare his breakfast first, which he eats while I throw together the green goodness. Then we each drink a portion. I don't note it every time, but it's safe to assume that he's *always* sharing my smoothies.


Waits had an "oops mom wasn't prepared for Monday" plate, with mini portions of: the last of the raw coconut yogurt, plain flax meal (a big hit!), coconut shreds, sprouted dehydrated buckwheat, almond butter, and the last few raspberries.
He was really into this plate. And here's what it usually look like, post meal:



Tuesday

Beautiful bright green smoothie! This one featured: homemade kombucha, Irish moss, raw hemp protein powder, Vitamineral Green, stevia, FarMar kale, a bit of leftover fresh mint (yum! so good in there), and fresh FarMar strawberries. I adore fresh herbs in my smoothies, and mint is no exception.


I tried something totally unique for Waits' breakfast. That's cooked chickpeas! Mashed with coconut oil and cinnamon, topped with strawberries. I really wanted this to be a surprise hit, but he was sort of so-so. I'm still playing with it though . . .

Wednesday

I didn't remember to capture this one until it had already been enjoyed, but maybe that's okay? I'm sure you're getting sick of smoothie pictures by now.
This delicious green monster had: homemade kombucha, Irish moss, raw hemp protein powder, spirulina, spinach, stevia, vitamin K2, and fresh FarMar strawberries. Love the spirulina and strawberry combo!


Waits had "green oatmeal" – cooked rolled oats with spirulina and flax meal and strawberries. That boy does love his spirulina (and that makes me a lucky mama, don't I know it).

Thursday

On Wednesday I was feeling like I needed something with a bit more "oomph". I went straight to my old stand-by, chia seeds! I love love love chia pudding. If you haven't played with this amazing, super healthy little seed, you really should try it. So fun!
I made a super runny smoothie using lots of home brew kombucha, raw hemp protein powder, Vitamineral Green, stevia, and lots of FarMar beet greens. Then I poured 2/3 cup smoothie over 1/3 cup chia seeds. I also added chopped prunes and liquid stevia, stirred it all up, and let it gel. Then I topped it with homemade almond-pumpkin-hemp milk and fresh raspberries.
Waits and I split the rest of the smoothie.


Waits had a pretty simple meal, attempt number two at breakfast chickpeas. This time they were mashed with almond butter and topped with raspberries. Still not a huge hit. I'm working on it . . .

Friday

Haha, I love this shot of the smoothie. So moody! This dark and brooding beverage featured: nettle infusion, Irish moss, raw hemp protein powder, Vitamineral Earth, FarMar beet greens, stevia, vitamin K2, and the last few FarMar raspberries. Alas, I thought it was . . . not so good.


Waits had a small bowl of chia porridge, made with canned full-fat coconut milk and mashed raspberries, topped with more whole raspberries. As an aside for all you mamas, chia is *great* for treating constipation (we weren't doing that this time, but we have in the past). Just make sure to follow up with plenty of fluids, and you'll be shocked at how well things clear out. *ahem*
Funny thing, I wasn't so fond of the smoothie, but Waits adored it! Go figure.



Saturday
My day to sleep in! Damian gets up with Waits and they play together for an hour or so, and Damian does breakfast duty. Always oatmeal:

I snapped a photo of the remains when I got up. Oatmeal made with homemade alt milk, topped with cherries. Side of cherries.
I quickly nommed down two of these:

Medjool dates stuffed with almond butter. Heavenly, and perfect fuel for the ride across town to Farmer's Market. Which, of course, is where the *real* breakfasting happens!

Miniature raw vegan handmade hand pies. These are insanely amazing and my super duper weekend treat. Breakfast of champions! I really almost always go the fruit route (passionfruit is my favorite), but this week I selected chocolate hazelnut. I chose wisely.

Sunday

On Sunday morning I made pancakes. Ya know, because it's Sunday morning! It needs pancakes! Gluten-free blueberry pancakes cooked in coconut oil, with real maple syrup, to be exact. Ohmigod these were so good.


Waits got one gluten-free blueberry pancake, topped with coconut cream and strawberries. His very first pancake, but dudes, he totally didn't like it! That crazy kid. Maybe I should have added spirulina . . .


So what do you think guys? Did you like this deviation? For next week: back to a full day's food, or a week's worth of lunches? You tell me!
What do you normally eat for breakfast? And what's your "special treat" breakfast?