My mother-in-law's table: I didn't eat these zinnias, but I sure did grow them!

Last week I deviated from the WIAW norm, and showed you an entire week's worth of breakfasts. And after the enthusiastic response, I promised to follow up with a week of lunches. And I will! But last week my lunches were all wonky, mostly smoothies, and don't we know you're probably sick of looking at my smoothies by now. So we'll save lunches for next week (and after that is the San Francisco edition, squee!!).
In the meantime, I hope you enjoy a little peak into this past weekend, when we were visiting with Damian's parents. Lee and Lisa live on Puget sound, directly across the way from Seattle, on a little hill overlooking the water. It's pretty awesome.
Here's what I ate last Saturday: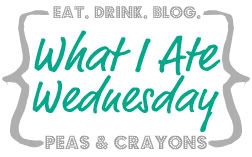 Coffee
On the deck, in the sun, with an article on art and technology (my mother-in-law knows me so well).
Over our morning coffee, we decided to hop a foot ferry for a quick ride over to Port Orchard, to visit the little Farmer's Market there.

Breakfast
A quick snack in the car on the way to the ferry dock.
Sir Jack was pretty distraught at having to sit in the way-way-back, but he survived.
I did not have a "deep-fried smoked sausage on a stick dipped in cheese" for lunch, thank the sweet jeebs.
I bought a couple of pounds of these spray-free bings, and WOW are they good! Black Forest smoothies FTW.
Waits and I split an organic apricot.
Iced soy latte for the ride home (Waits passed on this one).

Lunch

While Waits was napping I whipped up a big batch of guac, served alongside serrano salsa, blue corn chips, and carrots. It's hard to get a picture of guac; it tends to disappear quickly.

When Waits woke up he wanted demanded a banana with almond butter. Or, more precisely, a "nanna" and "augh".

I was more than happy to "clean up" the leftovers.

Dinner

I made enchiladas with black beans, chorizo-style Field Roast sausages (best veg meat ever!) and pepper jack daiya, topped with my from-scratch enchilada sauce.

We also tag-teamed some Mexican rice with fresh corn, Farmer's Market tomatoes and walla walla sweet onions, and green peppers.

With an icy IPA, a side of salsa, and vegan sour cream, dinner was THE NOMS.

Dessert

I'd made miniature RAW marionberry cheesecakes in a rich chocolate crust (recipe in Rawsomely Vegan!)

And that, my friends, was a damn good Saturday!