Monday marked the start of my second all-raw trial! It was also the day I dove head first into my next project, which is on a ridiculously short deadline. Dining was light and the workload was heavy, but Waits and I managed to have a good time (we always do!)
Why is raw food just so much prettier to look at? Am I the only one who feels this way?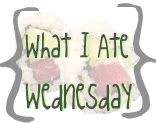 Coffee Green Tea
I miss coffee. I don't miss anything else, but I miss coffee.
Obviously, green tea isn't raw either, but it's much better for you and there's no way I'm giving up caffiene while simultaneously undertaking the biggest writing project of my carreer. I'm cray-cray, but I'm not crazy.
There were 3 of these throughout the morning . . . (2 tea bags, and the last cup that re-used the 2 tea bags.)

Breakfast
Waits enjoyed some coconut cream with blueberries, some sunflower lecithin, and some molasses. I wasn't feeling very hungry so I skipped my usual smoothie and opted for a grapefruit. Waits helped me with that as well. I also had an orange at some point during the morning, not pictured.



Snack
After our bath and the wee Mr. Rebhal's nap, I had an open face "pb&j" and Waits nibbled on nut butter. This time around doing raw, I'm trying to stay stocked up with easy-to-grab goodies. It makes it SO MUCH easier when there's a variety of choices, different tastes and textures. This bread is totally neutral – I call it my "raw toast" – and it pairs perfectly with almost anything.



Juice!
Our post-dog-walk juicing session. This one was a blend of kale and cucumber. Simple and perfect.



Late/Light Lunch
More "raw toast", with mashed avocado and sliced Romas. So pretty, no?


But then I sprayed it with tamari (yes, I keep a little tamari in a small spray bottle for easy and even application) and piled it with nutritional yeast. Nut yeast is not technically raw, but it's just so terribly healthy for you and it's been embraced by the raw community. Kind of strange, that. Not that I'm complaining.



More Green Tea
I ain't gonna lie, there were three more mugs . . .



Kombucha
After nap number #2, I got down to the business of making dinner. I drank some home-brewed kombucha while I worked.



Din Din
It's back to the days of double dinners: cooked food for my boys and a raw meal for me. Luckily my boys like a lot of raw foods, and I don't mind the kitchen time.
Damian and Waits had a hearty lentil soup made with sprouted lentils. Damian also had cornbread on the side. They shared my big-ass-salad.
Baby plate: lentil stew, some mashed chickpeas, and some sliced cucumbers.

I had a big-ass-salad with red leaf lettuce, romaine, orange and yellow bell peppers, cucumbers, and red onion. Just drizzled with olive oil and a bit of balsamic (balsamic is not raw).



I also had "raw toast" smeared with a tahini-based sauce, piled with Roma tomatoes and sliced white mushrooms. And, there was Rooster.




How have you been doing with your MMM so far, and how has it influenced what you've been eating?