Vacation is great and all, but I must admit . . . as much as I love holidays, I can't help but also love the feeling of getting back into my own kitchen. Of getting back to business! My business, which is making clean, simple, healthy food that leaves me feeling nourished and energized.
This Monday marked the end of our winter adventure, and it was a day of errands, catching up, replenishing, tidying, puttering, and mountains and mountains of laundry. Think of me what you will (geek?), but I love those sorts of days! Oh yes, Type A with a capital "A", right here folks.
The day went something like this: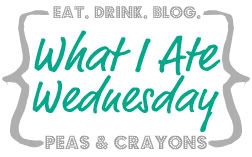 Coffee and Breakfast
I was not particularly hungry in the morning. That may or may not have had something to do with the 1/2 pint of coconut ice cream I'd eaten as a midnight snack the night before . . .
I made a fresh batch of fortified almond milk while the French Roast brewed.

I also put together a breakfast plate for Waits: oatmeal with cinnamon and goji berries, black beans with nutritional yeast, two crackers with miso as spread, and a small handful of sunflower seeds. Espresso cup of almond milk on the side.
We took our goods upstairs and got down to cleaning. I sort of got lost in laundry-folding-and-furniture-dusting land, and before I knew it, it was past 11.

My tummy was just starting to grumble, but the boydogs were rarin' for their walk, so I grabbed a quick forkful of kimchi (not pictured) and a handful of home-roasted pumpkin seeds, and we hit the road.
Please send a good thought for Mr Harley up there. He has a pretty massive tumor on his leg, but we're having a surgical consult soon and I'm staying optimistic!

Lunch

As soon as we got home, Waits and I split an orange while I unpacked the groceries. Oranges are such a winter treat! It was icy cold outside (see?) and the citrus is sort of like fake sun. Am I the only one who feels like that?
Anyway, Waits was into it:


After that we got all cleaned up and snuggled into bed for nap time. He was out pretty quickly, and I high-tailed it to the kitchen to appease my now-loudly-rumbling tummy.

Leftover Lebanese (1/2 stewed chickpeas and 1/2 lentil + rice mixture, all covered liberally in nutritional yeast)

And black tea (from my Fair Trade sampler bag) (it was really good, really light on tannins!)

Baby Lunch

When Waits woke up around 3, I fixed him up another little tray. This one had the last of the Lebanese leftover lentil + rice mixture, the last of the black beans from breakfast, and 4 kalamata olives. For some reason he is totally stuck on olives right now, oh toddlers!

Afternoon Juice

Greens for running our afternoon errands (which included mailing out the first round of Bonzai Bags, woo-hoo!). This boy is a serious, serious juice-aholic (and makes his mama so proud!)

Dinner

I brewed a mild cup of green tea to keep me warm while I made dinner. I didn't care for this flavor, though I had the "Yerba Maté Mint" today, and it was really good.

Dinner. Simple. Soooo delicious. Quinoa, black eyed peas, and broccoli, covered in my raw tahini sauce. That's it!
But just FYI, I added a ton more sauce, and then when I finished this bowl I went back and did it all over again. SO GOOD.


Later, after Waits was fast asleep and all the cleaning was done, I slipped into the bath with a glass of wine and a book. It was . . . perfect.

~~~

This comical What-I-Wore-Wednesday is brought to you by the numbers 3 and 0, and the letters C, O, L, and D. This is what I wear these days to take Waits out for our night walk. We actually stay pretty roasty-toasty!


Black tank top (not pictured) and green plaid shirt: thrifted
Loose fit skinny jeans: secondhand
Damian's hoodie: Patagonia, who has earned our everlasting love and devotion for their pioneering eco-conscious business practices, their awesome vegan offerings, and their impeccable quality.
Brown legwarmers: ages ago on sale at Urban Outfitters
Pink Chucks: secondhand (I bought the black laces long ago)
Black hat: acquired somehow, maybe from a roommate?
Grey scarf: Damian's, ancient

What's your favorite go-to, super simple, yet always satisfying, meal?