We're into the heart of winter now, where my body begins to ask for warm, hearty, rich and filling foods. And I'm listening! Because my body's pretty good at knowing what's up. This day tasted gooOOOoood.
And it looked like this: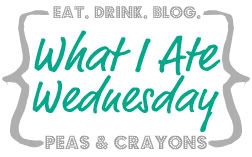 Coffee and Baby Breakfast
Tis the season for a Christmas cup! French roast, stevia, and
homemade fortified
hazelnut milk.
Sunday is Damian's day to sleep in. Apparently, Crash was sleeping in too! I tried not to wake that sweet sleeping pooch while I fixed my coffee and poured Waits his cup of raw hazelnut milk:
I also fixed him a mini pre-breakfast of oatmeal with cinnamon and sugar-free strawberry preserves.
Waits and I had a lovely morning writing Christmas cards and wrapping gifts. He didn't eat much, mostly because he's teething hard and doesn't have much of an appetite. That was okay though; the real breakfast was yet to come . . .
Brunch
Sweetpea's
all-you-can-eat Sunday buffet. This week's them was "Holiday Brunch", which featured biscuits with light gravy, seasoned seitan, scrambled tofu, home fried potatoes, cauliflower (which they were out of, boo!), and some sort of dessert thing which we both skipped. I loaded up:
AMAZING. Waits ate some seitan and almost all my taters. Those biscuits, good lord those biscuits . . .
Almond milk to go, because he's obsessed with coffee cups (gotta be just like Mom and Dad, so cute!)
After brunch we hit the secondhand children's shops and a couple of antique malls, finishing up our holiday shopping and enjoying a warmish winter day in the Pacific Northwest. It was awesome awesome awesome and I ♥ my family!

Snacky Snack

In the early afternoon, Waits went down for a nap, and then afterwards I took off to run a few errands. I was still pretty stuffed from brunch, so a Larabar was just the thing to hold me over until dinner. Cherry pie flavor, to match my long socks, naturally.
Damian and Waits had organic corn chips with homemade tomato basil hummus while I was out (not pictured).

Dinner

Our last stop of the day was for dinner, at Native Foods. Okay, to be totally honest, we've eaten there the last three weekends in a row. I think they put crack in their food!
Native Foods is located in an outdoor mall, so while we waited for our food we took advantage of our surroundings:

Awwwww cuteness!


Grabbed our food to-go, high-tailed it home, and dug the hell in (by now pretty starving). I'm sorta stuck on this one sandwich – the Scorpion Burger. "Chef Tanya's original tempeh burger! Homemade blackened Tempeh, chipotle sauce, romaine, carrots, avocado and onions. 8.95 Add melted cheddar. .50" You better believe I add the house-made cheddar. And side of steamed kale. YOWZA! This is, hands down, the best veggie burger I've ever eaten. EVER! ♥ ♥ ♥

Waits had a kiddie quesadilla with steamed veggies (which he pretty much ignored), side of canned coconut milk.
Epic Dinner. Epic. Oh, and Damian had the Chicken Run Ranch burger with fries, side of ranch. He's pretty smitten with this burger too. Oi, Native Foods, we really do love you!

To top it all off, after the bubs was asleep and the hubs was working, and I had the house all to myself, I curled up with my puppies for some straight. up. chillin'. Behold seXXXy Harley:


*Perfect Sunday*
~~~

So back up to Saturday, and I had organized a little get-together for a friend of mine who's about to be married. Tea and lingerie! An afternoon of high tea at the world-renowned Heathman Hotel. I instructed the ladies to "wear your pastel and your pearls", and "bring something skimpy for the bride." Ooh-la-la!


Needless to say, it was an awesome afternoon. I wore:
Pastel print dress: secondhand
Grey tights: unknown, they've been with me for a looooong time
Black vegan flats: thrifted
Pearl necklace (worn as a bracelet): pre-gan, my grandmother's pearls
Cream-colored trench coat (not pictured): secondhand
The table got a three-tiered tray of finger sandwiches, scones, biscuits, and all sorts of sweet treats. And me? I got an awesome little vegan plate, specially made!



Have you ever had high tea?