We drank our green juice in the car on the way to the airport.
Last week, the Rebhals flew away – out of the blustery northwest and into the sunny south. Our adventure from Portland to LA took us a total of ten toddler-filled hours. It was actually pretty darn great, as Damian and I began the day mindfully, with an attitude of "It's either going to be fun, or it's going to be funny!" In other words, if things go well then we'll enjoy them, and if things go badly, we'll just laugh at ourselves. Setting that intention went such a long way.
I love sharing my travel days because I like to disprove the myth that you can't eat healthy/vegan while on the go. We ate delicious and nutritious foods all day long! It looked something like this: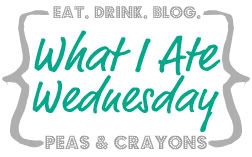 Up At Dawn
I can't bear to leave a cluttered crisper, so I'd already juiced any and all remaining veggies the night before. This blend was jam-packed with kale stems, collard greens, broccoli stalks, cucumbers, celery hearts, and a carrot.
Tip: Covering the juice with saran wrap like this will keep it from oxidizing (reacting with the oxygen in the air), and thus retain the maximum amount of nutrients.
Make sure to let the cover touch the juice – you don't want
any
air in there!
I also packed up the rest of our eats.
Coffee & Nibbles
Rice cakes with cashew butter.
Damian had his own rice cake and I split one with Mr Waits, somewhere over Mt Shasta. This was flight number 1 of the day.

Layover & Lunch

A clementine for my cutie.
We had a couple of hours to kill at the Oakland airport, which was a perfect opportunity to enjoy the lunch I'd packed. The boys got wraps, with spinach + Field Roast lentil slices + vegan mayo for Waits, and spinach + Field Roast lentil slices + avocado + mustard + vegan mayo for Damian.

Waits's little bird bites (I helped him finish this).
I was stoked to dive into an awesome salad, which had been sent to me by the good folks over at Earthbound Organics.

Please allow me to deviate for a momentary product review. I think these salads are fan-freaking-tastic, and I'll tell you why. Because they're vegan! Seriously, that may sound crazy, but do you know how hard it is to find a vegan pre-made salad? It's literally near impossible. (They ALL have cheese, or meat, or both!)
SO, I love that Earthbound Organics has come out with these all-vegan, plant protein-focused "Powermeal Salads". It's actually sort of my dream meal: a ton of greens plus a hearty serving of protein. There are three flavors and the Tomatilla Black Bean was my hands-down favorite. SO GOOD. The Cranberry Wheat was pretty awesome, and the Blueberry Quinoa (which I ate on this day) was fair. But I would definitely buy any/all of these again. Obviously, I'm not so big on packaged foods, but it's really great to know that there are tasty, HEALTHY vegan options to grab-and-go, at any grocery store, at any time. I think this is actually a really big step!
Okay, moving on . . .

Landing!

My two best boys, fresh off of flight number 2, waiting for the rental car shuttle.
What a long, long day of travel. But we were nearing the end! We just had to make it from the plane to the auto . . . via bus. Gah!

During the shuttle ride Waits demended food in the form of a Larabar. Coconut flavor, blurry pictures, tired folks (wavering between "fun" and "funny", I'd say . . . )
But once we got our car (Subaru Legacy sedan, love!), things began looking up. We hit a Starbucks for afternoon/evening refueling (not pictured), and we were on our way, bound for Santa Monica and one of my oldest and bestest friends.

Dinner

Amber took such good care of us! We started with margaritas and guacamole. Amber and I got all caught up (we did our research together in college!) while the boys played with the baby.

Dinner-making was a long and lazy process, punctuated by laughter, reminiscing, sharing, laughter, team-making guacamole, cook book peering, laughter, and lots of excited chatter. I wish every cooking experience could be so lengthy and filled with love!
Dinner itself was pretty spectacular.

Black bean and butternut enchiladas with a mole-style sauce, and damn I wish I had a better picture, because it seriously SERIOUSLY does not do this amazing meal justice. So good!
We were having so much fun that I completely forgot to photograph our dessert. Here's the evidence though:

Cardamom-persimmon sorbet, and coconut-lime sorbet, with candied almond slivers. Waits had a banana.
*sigh*
Oh so good, so incredibly, amazingly good. We went to bed with bleary eyes and very happy bellies. It was a long day, a stressful day, but damn it was a good day!

~~~

So fast-forward to the following Thursday – Thanksgiving! I wore this vintage dress that I picked up at a thrift store in Ventura California, for $10. Do you have any idea how hard it is to find a vintage frock that a) accommodates these buxom breastfeeding boobies, and b) is nursing-friendly (button front), and c) is actually cute + fits me? Like, IMPOSSIBLE! But this dress is darling and I love love love it. Gingham for life!


Blue gingham dress: secondhand
Black shiny belt: borrowed from my auntie
Black leggings: ancient, from Target
Black engineer boots: secondhand

So, how was your Thanksgiving? Did you manage to eat well while you traveled? I'm on day 9 away from home, and I'm relying on green juice to keep me up to snuff. What's your secret for staying healthy on holiday?