Last Thursday was the day that we got Waits' cast off. We were so excited for that day! I remember waking up and thinking, "Oh, this is going to be a good day!" Yes I did, can you believe that? I even decided to photograph the whole thing. It looked something like this: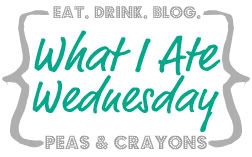 Coffee
I'm not 100% back on coffee . . . it's more like 99%.
While my coffee dripped I set about making the dogs their breakfast. Waits was begging and pleading for some of their tofu (Waits says "toy-a! toy-a!") so I cut off a bit for him. I only remembered to photograph it afterwards though. The cutting board remains:


And the happy guy playing with his best toy – a baby-sized "food processor" (it's actually an electric citrus juicer) that I got just for him at the thrift store, so he could be just like mommy – just an hour or so before the cast came off:



Breakfast
Taken over my shoulder (at a stoplight of course!), Waits reading in his car seat.
This is where things start to get off track, though at this point it was still fine and dandy. The pediatrician appointment was in the late morning, so we skipped the standard oatmeal/green smoothie and took advantage of the special occasion. Our pediatrician just so happens to be located very near the vegan/gluten-free/naturally-sweetened bakery. Yes!

Mmmmmm, yes. Baby-friendly treats!
We got an apple muffin, which was so amazingly moist and spectacular. It was my first time trying their muffins and I was super impressed. If you're ever in Portland, Cravin' Raven is a must! Muffin:



An Afternoon of Chaos
From there it all went to hell. I'll spare you the details, but suffice it to say that getting the cast off was not the jolly ol' experience I was hoping for. Eventually we made it home and Waits passed out, poor guy. I had an apple with homemade sunbutter:



When Waits woke up shortly after (he barely slept), I decided to do the breakfast-for-lunch thing. I made him a small bowl of oats with blueberries cooked in (topped this with coconut milk), and we split a smoothie:

Kombucha/banana/blueberry/hemp protein/kale/stevia. And all my favorite boys in the background!
After breakfast-lunch we got all cleaned up and headed out on our errands. Remember at this point Waits has had a seriously traumatic morning, is running on a quarter nap, and oh yeah his vampire teeth are coming in. POOR BUG!
I made sunbuttered rice cakes before we left. Waits ate one bite of his so I pretty much ate both of these:


First stop = checking in on book stuff at Herbivore.


"Hey Josh, can I take a picture of you for my blog?"


"Okay but DO something!"


Josh is awesome.

Leaving Herbivore we split a Larabar for the road (Waits ate most of this):


From there we headed downtown for vitamins at this shop where I had a coupon. Trying to find vegan vitamins at a non-vegan vitamin shop is a pain in the tuchus. Waits was super over it. I think there was more much-needed coffee involved at some point around this time. FInally, we met up with Damian since we were nearby his office. He was kind enough to give me a 5-minute breather, and held Waits while we strolled around the neighborhood. It was nice to see him and I was thankful for the break, since Thursday is his night to work late and me and little mister would be on our own until bedtime (his, not mine, haha).
By the time we left Damian it was pretty late in the day. Waits was cranky and clingy and to be honest, the idea of going home and trying to cook a meal with a sad baby sitting on my hip, was more than I was prepared to handle. I was DONE.
Whole Foods to the rescue.
They give a free banana to the munchkins!
So Waits pretty much had a complete meltdown at the Whole Foods hot bar. The eco-yuppies were shooting patchouli-scented lazer beams from out their eyeballs at us, and we barely made it out of there alive.

Dinner
It was the sort of night for a living room picnic. Raw kale salad, cold curried tofu salad, a few grilled asparagus spears, and a small plate of reheated leftover Thai noodles:


During dinner I put on the dvd of Rent: Live On Broadway and I sang along the entire time. It made me feel a lot better, and Waits totally doesn't mind when I sing at the top of my lungs with my mouth full. He's really great like that.



Dessert


Much later, after clean-up and our bedtime walk and after Waits was fast asleep, I had a late night snack of my beloved banana and nut butter and maple syrup. It was perfect.

~~~

This is another one of my classic autumn outfits, perfect for running around town with a toddler in the Portland on-and-off rain. Also, every time I visit Herbivore while wearing an Herbivore hoodie (which, seriously, seems to be every time I visit Herbivore at all), I feel like a big geek. Of course, I'm pretty sure I am a big geek, so there's that.


Purple hoodie: Herbivore
White fluttery skirt: secondhand
Black denim skinnies: secondhand
Purple stripey knee socks: from Sock Dreams (I am addicted!)
Black rain boots: secondhand
Black and white head scarf: vintage
BUt the day wasn't all bad:




How do you bounce back from a day that careens out of control? (I assume I'm pretty alone in my "Broadway musical singalong therapy") Do you find that it helps to poke fun at yourself and laugh about it, or do you prefer to just move on?