This little penguin finally learned how to use a straw. Green juice made easy!
The return of WIAW, and another glimpse into our crunchy, crazy lives. But before I dive into the foodie-type stuffs . . .
Each week I play along with WIAW and I really enjoy it, and it seems like you all get a kick out of it too. But there's always a few comments along the lines of "You eat so healthy, it kinda makes me feel guilty about what I eat." And that makes me so sad!
It's a sentiment I can relate to – I think it's human nature to compare ourselves to others. But as far as I'm concerned, I'm on the same food journey as you are, and we're all doing this together. I've just been at it for a long time. I did not start eating this way overnight – you shouldn't expect yourself to, either!
I post my menus for two reasons. 1, because I feel like there's not a whole lot of resources out there regarding raising vegan children, and I want to help to demystify and normalize it. And 2, to inspire people by showing that healthy food is delicious and interesting and awesome. Because it is!
Okay! Now on to the food.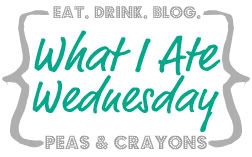 Coffee
I had to give Damian a ride to work. Java in a mason jar, on the go. Coffee (not raw) + almond/pumpkin/sesame milk (raw) + NuNaturals Vanilla Stevia drops (not raw).


Baby Breakfast
When we got home I did a quick workout, and then it was time to feed Mr Man. He had leftover millet with cinnamon and dulse, topped with melted coconut butter and cherries. There was a very scary cherry choking incident at the beginning of breakfast. Chop those cherries good, mamas!


Smoothie
Mmmm, green monster. This puppy was super thick and I served it up in a soup mug, topped with Waits' leftover cherries. It had: homemade kombucha (raw), hemp protein powder (raw), Vitamineral Earth (raw), vitamin K2 (not raw), pinch of powdered stevia (not raw), Irish moss (raw), a ton of FarMar kale (raw) and a handful of frozen blueberries (raw). Waits helped me drink this, of course.
Lookit all that kale! Get thee into mah belly!


Green Juice
After our bath and Waits' nap, I made us each a fresh glass of green goodness. This was a simple blend of kale stems, cucumber, some leftover cilantro, and a squeeze of lemon on top. All raw of course.
With all the book-writing madness, I'd put my juicer on hiatus. I'm so glad to be getting back into it! Waits was pretty stoked, too.


Snacks
There was also some mid-juice munching. Waits nommed on kale chips while playing "look at me I'm a tornado" in the living room, and I had some carrot sticks (raw) in a homemade peanut sauce (~50% raw). Crash wanted in on those.


After juice clean-up, we took the spotted beggar out for a stroll. We always stop by the grocery store on the way home, and as usual, Waits wanted "nanna!". I couldn't say I blamed him. Nannas are pretty rad, dude.


Back at home there were more kale chips for me and a good long nursing session for the little mister. These kale chips included teeny tiny bits of cauliflower in the dressing, which added a wonderful texture. The dressing was tahini-based and included garlic scapes. All raw, totally delicious!


In the afternoon we've been all about bike rides. It's finally summer here and we have so. much. fun. tooling around town together. I do all my erranding by bike now (finally!) and Waits can't get enough. Can you believe it had been almost two years since I'd ridden a bike??!
On this particular day we rode over to the co-op, or I should say, the juice cart out front of the co-op. I treated myself to an iced matcha latte, because they make their own raw hemp milk every morning. Hello?! Heavenly. Date-sweetened hemp milk (raw) + matcha powder (not raw). And a homemade "energy nugget" (raw).
Bit of a stink-eye from my little stinker. <3

Dinner
This picture just doesn't do my salad justice. FarMar green leaf lettuce (raw), red onion (raw), carrots (raw), broccoli (raw), snow peas from my garden (raw), and baked tofu (not raw) all tossed in a raw tangy tahini dressing. This salad was sort of enormous.


Baby Dinner
Waits had a hybrid of mine and Damian's dinner: baked tofu, steamed carrots and broccoli and snow peas, and rice pilaf with tahini dressing.



Raw broccoli seems to be a bit of a contentious topic among epicureans. I love the stuff but apparently most people don't dig it so much. Which camp do you fall in? Raw broccoli: yay or nay?