Last weekend, while relaxing on my mini vacation, I discovered an awesome new blog. Spabettie features frequently vegan, always gluten free, and beautifully photographed food. And the author is a Portlander! I love me some good food porn, and I was particularly intrigued by her participation in the rising Internet meme, What I Ate Wednesdays. Inspired by her lovely photos, I've decided to play along!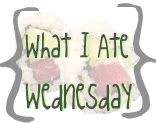 I always enjoy seeing what other people eat, and I thought it would be fun to look at a toddler's meals as well. So here's mine (high-raw)
and
Waits' (not including
lots
of breast milk) menu, on Monday 11 April. If you'd like to join in on the
What I Ate Wednesdays
fun, you can learn more about it
here
.
Coffee.
We were just back from a weekend away and, I discovered, out of coffee filters. Toilet paper to the rescue.
Baby Breakfast.
Waits had half a banana, a dollop of almond butter, and a few raspberries. We also shared a spoonful of blackstrap molasses, not pictured.
Smoothie.
Due to the aforementioned mini vacation, we were also totally out of greens. But no worries, I just raided my patio pot for it's dandelion "weed". Greens is greens, and dandelion is exceptionally nutritious. My smoothie also contained: water kefir, a small frozen banana, frozen mango,
Vitamineral Green
, hemp protein, and maca.
Waits finished up . . .
. . . while I prepped some dinner ingredients (that's quinoa and cashews,
soaking
)
Juice.
After a bath, a nap, and our morning walk, Waits and I shared a juice that included an entire head of cabbage, half of a large cucumber, and a splash of fresh lemon. I heart cabbage juice!
While we drank our juice I made up a big batch of hummus, and Waits snacked on that as well. Then I made another cup bowl of coffee (not pictured) and tried, unsuccessfully, to put Mr Man down for his afternoon nap. His schedule was still off from our trip and he was having none of it.



Late Lunch.
Instead of having a nap, we had a hummus plate. Cukes, carrots, and celery. Waits ate mostly hummus and cukes – his favorite veggie.



Kombucha.
While I was making dinner I had some peach kombucha. Repurposed salad dressing bottles are excellent for storing home brew!



Dinner.
Damian and I had taco salads, with romaine, red onion, and radishes tossed in lemon juice and nutritional yeast, topped with spiced quinoa, azuki beans, and avocado, and drizzled with a zesty red cashew cream sauce. Damian's was served over a crispy flour tortilla.
Waits ate a kiddie version of our meal: quinoa with zesty sauce (his first cashews!), azuki beans with nutritional yeast, and some cucumbers on the side.



Wine.
After the baby was snuggled up asleep, I enjoyed a very small glass of wine while working. It was delicious.
~~~